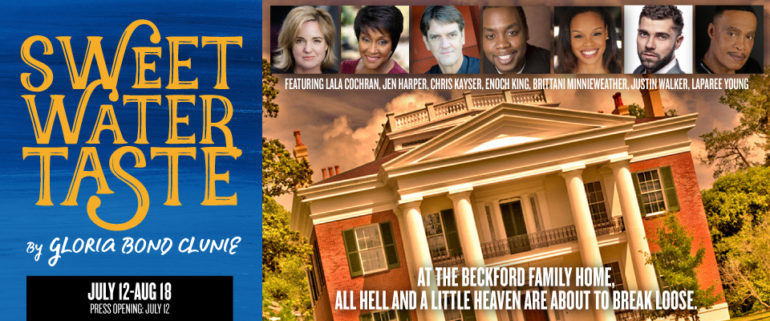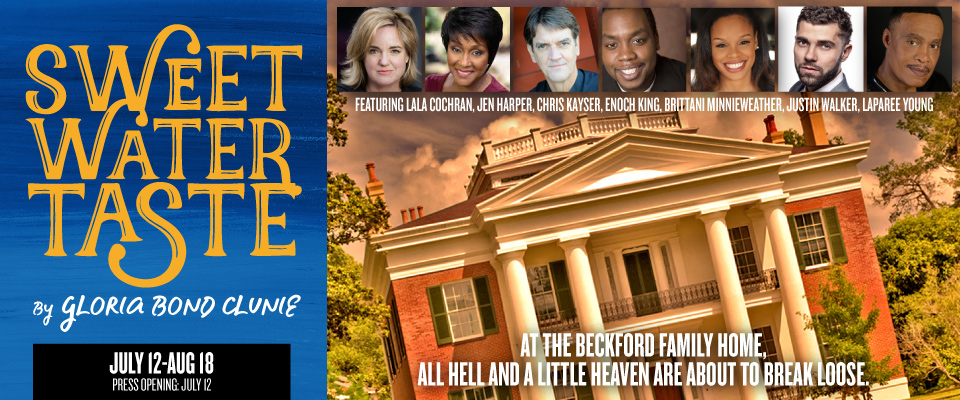 Who Is In Your Lineage: Sweet Water Taste at Horizon Theatre Makes You Wonder
Do you know who is in your lineage? There are some secrets that the people of old want to keep and then there are some that need to get out and be told. Sometimes there are times that we only want what is rightfully part of our inheritance and quick frankly that is part of what is going on in Sweet Water Taste at Horizon Theatre. It is one of the funniest and thought-provoking plays put on at Horizon Theatre. From the start of the play there are some of the funniest scenes and when you hear them sing and act out, Staying Alive, you will darn near fall out of your seat. There is a whole lot of seriousness intertwined humor and it made me wonder if there are other family members out there with my maiden name that are of a different race that I do not know that can offer some history, inheritance and more.
All hell (and a little bit of heaven) breaks loose when Elijah Beckford, a prominent southern black undertaker, approaches his wealthy white cousins, Charlie and Elizabeth Beckford, and demands to be buried in "the family cemetery." SWEET WATER TASTE is an award-winning comedy making its South-Eastern premiere at Horizon Theatre Company this summer.
SWEET WATER TASTE features an ensemble of seven of Atlanta's favorite actors. LaParee Young (Horizon's How to Use A Knife and TV's Greenleaf) and Chris Kayser (Alliance Theatre's A Christmas Carol, Horizon's The City of Conversation) are the black and white patriarchs who go head-to-head. Playing their wives caught in the middle are Lala Cochran (Horizon's Waffle Palace Christmas) and Jen Harper (TV's Greenleaf). The adult kids representing the next generation are Justin Walker (Horizon's The City of Conversation), Enoch King (Horizon's The Santaland Diaries, Constellations), and Brittani Minnieweather (Horizon's Disney's Freaky Friday).
SWEET WATER TASTE will run July 12 – August 18, 2019 (Press Opening: July 12, 2019). Performances are Wednesday through Sunday (Wed-Fri at 8pm, Sat at 3pm & 8pm, Sun at 5pm). Tickets start at $30 for weekdays and $35 for weekends.  $20 anytime for teens and full-time student under 25 with valid student ID.   Prices are subject to change and will rise as performances fill up. Patrons are encouraged to purchase tickets early for best prices. Seating is general admission. Our intimate theatre is in the heart of Inman Park and Little Five Points at the corner of Euclid and Austin Avenues (1083 Austin Avenue NE, Atlanta, GA 30307), and includes FREE parking. Tickets and information are available at horizontheatre.com or 404.584.7450.
Do you have some family secrets that you want to keep to yourself?