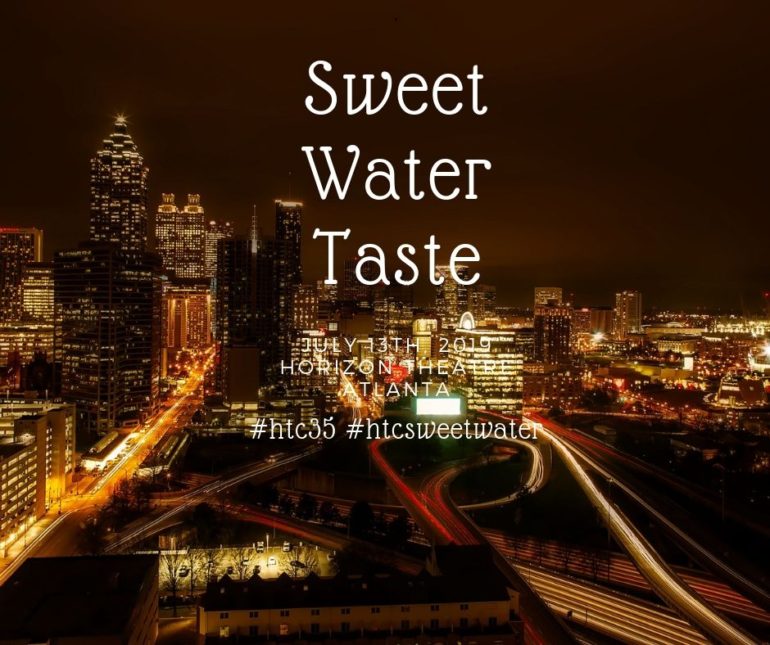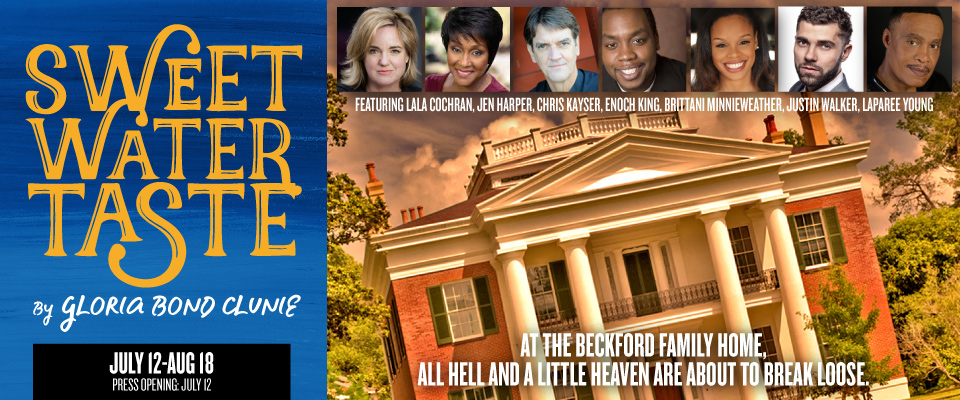 Sweet Water Taste at Horizon Theatre starting July 13th
Horizon Theatre Company is continuing its 35th Anniversary Season with a production that packs more family drama than your laugh-box will be able to stand! SWEET WATER TASTE, a new comedy from Gloria Bond Clunie, will hit the Little Five Points stage from July 12 – August 18, 2019.
"You won't want to miss this story of two families, one black, one white – two branches of one family tree in North Carolina," says Co-Artistic Director Lisa Adler.  "Funny, irreverent and topical, SWEET WATER TASTE features some of Atlanta's best actors and Horizon favorites. If you've loved previous summer productions from director Thomas W. Jones II (Blackberry Daze, Da' Kink In My Hair, How Black Mothers Say I Love You), you'll be thrilled with this Southern ensemble comedy."
All hell (and a little bit of heaven) breaks loose when Elijah Beckford, a prominent southern black undertaker, approaches his wealthy white cousins, Charlie and Elizabeth Beckford, and demands to be buried in "the family cemetery." SWEET WATER TASTE is an award-winning comedy making its South-Eastern premiere at Horizon Theatre Company this summer.
Performances are Wednesday through Sunday (Wed-Fri at 8pm, Sat at 3pm & 8pm, Sun at 5pm). Tickets start at $30 for weekdays and $35 for weekends.  $20 anytime for teens and full-time student under 25 with valid student ID.   Prices are subject to change and will rise as performances fill up. Patrons are encouraged to purchase tickets early for best prices. Seating is general admission. Our intimate theatre is in the heart of Inman Park and Little Five Points at the corner of Euclid and Austin Avenues (1083 Austin Avenue NE, Atlanta, GA 30307), and includes FREE parking. Tickets and information are available at horizontheatre.com or 404.584.7450.
ABOUT HORIZON THEATRE COMPANY
Horizon Theatre Company connects people, inspires hope and promotes positive change through the stories of our times.  We produce professional area and world premieres of smart, funny and provocative contemporary plays.  We also develop the next generation of diverse artists and audiences.  For more information about tickets, group sales, or to receive a season brochure, call 404.584.7450 or visit horizontheatre.com.
Major funding is provided by the City of Atlanta Mayor's Office of Cultural Affairs, the Fulton County Board of Commissioners and Fulton County Arts and Culture, the Metropolitan Atlanta Arts Fund, The Shubert Foundation, the Imlay Foundation, The Community Foundation of Greater Atlanta and Bloomberg Philanthropies.   Horizon is also supported in part by the Georgia Council for the Arts through appropriations from the Georgia General Assembly.   GCA is a partner agency of the National Endowment for the Arts.  We are grateful for our play and program corporate sponsors:  the Turner Voices initiative of Turner Broadcasting, Macy's, the National New Play Network, and Kilpatrick Townsend.